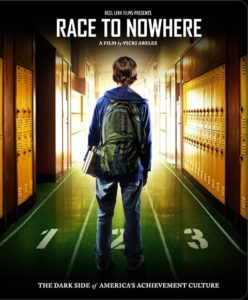 Last month, I visited the C. W. Post campus for a screening of "Race to Nowhere," a documentary that answers the question "How are we doing?" with regard to our education system. Apparently, not so great.
The film interviews students, parents, educators, and other experts in the field. It examines the pressure on students who spend much of their valuable school time not exploring and questioning and learning but memorizing tons of information to pass standardized exams. It shows the extracurricular activities, clubs, and teams they join to make their college applications stand out from the pack. Most of all, it shows kids who are burning out and parents who have been brainwashed to believe this is the way it should be. One shocking tidbit was the high percentage of students entering their freshman year of college who have to take remedial English and Math classes because they haven't mastered basic skills during their previous 12+ years of school.
"Race to Nowhere" was a powerful lead-in to a much needed discussion about where we're headed in the current education system. The discussion that followed the screening on the Post campus was amazing and just one of many to come. Here's the link to the website on which you can view the trailer and find future screenings in your area: http://www.racetonowhere.com/.
The website also offers pages of links to the latest coverage of the film and movement. Here are a few to get you started:
Feel free to comment below about your experiences, thoughts, suggestions.