Horror: What truly terrifies you?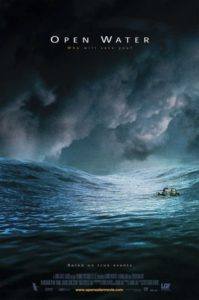 There are countless books and movies that attempt to scare us. Some succeed; many fail. Being scared out of your wits is a personal thing, it seems. What succeeds in scaring you may completely fail to frighten me. So, I ask "Which bits of a book or movie are capable of truly terrifying you?"
There's something exhilarating about entering into a potentially scary experience. It's a delicious sensation that builds and creates goose bumps on my skin and chills in my core. I curl up tighter on the couch and sink lower under my blanket. My hands make their way closer to my face so I can hide my eyes if necessary. This is a good kind of scariness, one that you anticipate when watching certain movies.
It is in no way similar to feeling disturbed by themes that involve violence done to children, which does my head in but could never result in the scary sensations described above. In fact, I can't watch horror movies or read books that involve harm coming to children.
When I was a kid, Edgar Allan Poe's stories scared the heck out of me and probably set the foundation for what I would later find scary, namely suspenseful horror that is not overdone and psychological in nature. For example, Fortunato being walled up, one brick at a time, in the wine cellar. The thought of being trapped like that and no one ever knowing where you were was terrifying to me at the age of eight.
About that time, there was a TV show called The 4:30 Movie that had theme weeks. Vincent Price Week was a favorite. Several of his movies were based on Poe classics and to this day, when someone mentions Edgar Allan Poe, I see Vincent Price's face (and hear his distinctive voice).
Then there was Monster week. Though I'd watch intently as people screaming in Japanese fled the city with Godzilla, Rodam, Gamera, or Gargantua chasing after them, I was never scared by these fake, rubbery monsters. The horror came later if Mom happened to cook something jiggly like eggplant parmigiana. Then, I'd hear the screeches of Gamera and Godzilla coming from my plate. To this day, whenever I bite into an eggplant parmigiana hero, I always think of them.
As a teenager, I saw the standard teen horror flicks. With the exception of the original Halloween movie, the teen horror movies just never did it for me. They relied too much on cheap thrills and such far-fetched plots that eventually I decided to willingly unsuspend disbelief. Cheap thrills leave you hungry for something more substantial. Sure the startle factor is powerful, but it's short-lived. Something would pop out at you and you'd scream. Remember what you did after screaming? You laughed, right? Because it was more a feeling of "you got me" rather than "wow, you really scared me down deep and that fear is going to linger for a while." After the movie, you'd walk home with your friends and rather than looking over your shoulder in fear, you'd laugh at who screamed the loudest at those moments.
A good scare is a lot like garlic. It lasts long after the story has ended. Here are some of my favorite, scary viewing/reading moments:
Jaws: It doesn't matter that I know it's unlikely I'll ever be eaten by a shark. The possibility exists and so I'm never quite at ease ever since I saw this movie as a kid.
Open Water: To start, I have a fear of being under water. (I won't tell you how old I was when I finally learned to put my entire head under the shower, cheeks puffed with extra oxygen stored up.) This movie had me on the brink of an anxiety attack, but I couldn't stop watching it. Even if I didn't have a deep-water phobia, as clearly the divers in the movie didn't, you can't escape the horror of their situation. First of all, it happens in real life—fly-by-night operations leave divers behind. Then there's the near certainty that you're going to die and probably in a gruesome way. The nudge of the shark wasn't even as terrifying as waiting for the shark's nudge after the partner died and drifted off. The suspense made me sick inside. Oy! I'm starting to hyperventilate just thinking about it.
Communion (the book): It is a mistake to read this book in bed at night. It terrified me. It's supposedly a true story about author Whitley Strieber's encounters with aliens at his cabin in the woods, and there are witnesses. Whether it's true or not doesn't matter; it feels real. And the horror of this book carried over into my real life in strange ways. See my post Signs for the details. And speaking of Signs…
Signs: I love this movie because you don't see the aliens until the end and it's still scary as hell. The rustle of those corn stalks gets me every time.
Fire in the Sky: Freaky. Freaky. And can I just say, freaky. The whole "based on true events" thing already kicks the scare-o-meter up a few notches for me. DB Sweeney cowering naked in the corner of that shack made my hair stand on end. And the whole icky, sticky beehive-like thing was disgusting, but in a scary way. Imagine waking up to find yourself in something like that. Jeez. But that part only worked for me after the rest of the movie had done its job.
Twilight Zone: The Movie: Can you honestly tell me that when you take a night flight you don't look at the wing expecting to see that thing standing out there? Shiver.
Planet of the Apes (the original): This is not a scary movie, but the final scene on the beach stayed with me a long time with all the unspoken facts: There's nowhere to go. You're where you wanted to get to, but it's not what you thought it would be. Your life is a nightmare you'll never wake up from.
With that said, I think I'm a bit clearer about what scares me. It's the sense of being trapped without control, whether it be in the middle of the sea, among talking, dominant apes, or prodded by aliens. And most likely, this loss of control scares me in books and films because it disturbs me in real life, too. For those of you who know me, I'm sure you're shocked by this admission. 🙂
Your turn. What truly terrifies you?