Edinburgh Revisited: Falling in Love Again with the City and the Man
Memory is an amazing thing. My husband and I are back in Edinburgh, where we met face-to-face for the first time nine years ago. I remember everything, down to the exact house where we posed for a photo, surrounded by a gorgeous floral display.
The front of the house has been updated for autumn with succulents growing out of an arm chair and lamp shade. And we're nine years older and looking a bit succulent ourselves.
On Sunday, we walked around the base of Arthur's Seat (which we can see from our house sit) to Duddingston. The woods smelled like cinnamon oatmeal, the air was crisp, and the trademark Edinburgh sky—vivid blue with white puffy clouds—was bliss inducing.
We popped into the Garden Room at Duddingston Kirk for tea and "REAL" scones (Richard's words. Since arriving in the States, he suffers from trianglesconeophobia.) Afterwards, we returned to Dr. Neil's Garden and recreated poses of cherished photos from that first trip here.
All of that fresh air and exercise made us hungry, so our next stop was the historic Sheep Heid Inn, the oldest surviving public house in Scotland, established in 1360. After a delicious roast dinner, we took a peek into the skittles alley. Skittles is similar to bowling, but the ball is smaller and doesn't have finger holes.
Yesterday, we took the bus to Stockbridge and meandered along the Water of Leith to the bucolic Dean Village.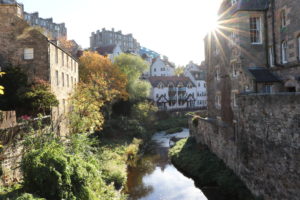 We ended up at Dean Cemetery. Richard has a past as a horror screenplay writer, so he views cemeteries with a different mindset than I do. My grandmother used to take us for jaunts and picnics among the tombstones, so for me, they are serene and bring back happy memories.
And then we met the ghost. We didn't know he was a ghost at first. We crossed paths with him a couple of times and he expressed his pleasure at how well the cemetery was maintained, which is kind of funny in hindsight. Then, I rounded a curve in the path and he came up behind me. He pointed to a tall stone surrounded by large, pinkish rocks and mentioned something about bringing it back from the Northwest Passage. I'm normally a very chatty person with strangers, but he took me by surprise.
I walked forward to read the stone and the word "Terror" stood out. I realized it was the grave of Lieutenant John Irving from the HMS Terror, who was the first identifiable body found after Sir John Franklin's fateful expedition to the arctic to find the Northwest Passage. Richard and I had just watched the show on TV before our trip, and we met one of the actors from the series on our train at London Bridge Station just the week before.
I turned around to thank the man for pointing out the grave, but he wasn't there. Completely vanished. I spun around in all directions. Gone. The paths were lined with gravel that made a loud crunching sound when you walk, but there was silence. The only other possibility was the old metal gate at the back of the cemetery. It was just a few yards away. When I opened it, it made a grating sound that I would have heard had the man exited that way.
Whoa! Excited conversation ensued. I, the "cemeteries are serene places" person, was convinced I had just conversed with a ghost, while my "I write horror screenplays" husband tried to come up with a reasonable explanation and couldn't. We asked three different people around the cemetery if they had seen the man and no one had. Cue spooky ghost sounds. Can you see me wiggling my fingers in the air?
It was a fun ending to an already exhilarating day. And we have a week left in Edinburgh. I'm still in love with this city. Ditto for the man at my side.