If you've been following along, you know we're about to set off on a new adventure. I've been packing boxes and selling furniture. My apartment looks like a warehouse. There was one piece of "furniture," however, that was difficult to part with…my piano.
When I was three years old, my parents thought they had a Mozart on their hands when they heard me tapping out tunes by ear on a toy piano. Once I became a parent myself, I understood how that works. LOL.
When I was six years old, my dad came home with a surprise. It was an upright piano, painted brick red. The only place we had room for it was in our avocado-green kitchen. Hey, it was the 70s. At that time, my dad was a cop and someone on his beat had a piano they wanted to get rid of. They'd give it to him for $5 if he returned with a truck and took it off their hands. And so began my journey into music.
I took lessons from Mr. Ferraro, a kind, gentle man who taught me songs from the red Thompson books. I went to his studio for lessons, so he didn't have the pleasure of experiencing my brick-red piano. A few years later, he passed away, and I continued lessons with the music teacher from my elementary school.
When I think back on it now, I can almost imagine the horror she must have felt at the sight of that $5 giant brick in the green kitchen. To her credit, she never flinched and was an amazing teacher who introduced me to the world of classical music. Up until then, watching Bugs Bunny with my Dad was as close as I got.
One day, five years after I began lessons on that first piano, I arrived home from school and almost walked past a brand new one sitting in the living room. It was a Baldwin console piano in pecan with a beautiful design on the front. When it finally registered, I broke down crying. Eleven years old, but I understood the significance of that purchase. For one, it wasn't pocket change for my parents at that time in their lives. Second, it was gorgeous. More importantly, it affirmed that I had stuck with something and progressed to a level that proved playing the piano was going to be part of my life forevermore.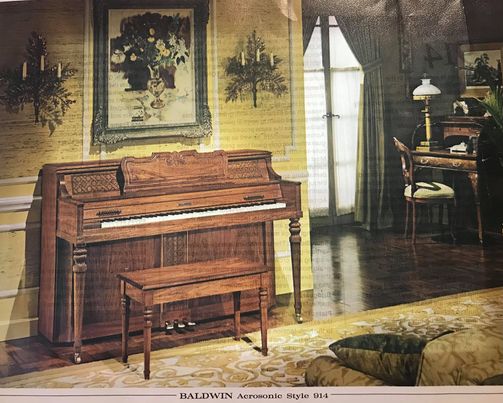 The original Baldwin promotional flyer from 1976
We gave our brick-red piano to my brother's fourth-grade teacher and the rest is history. I took lessons until I was in my teens. Classical music was my thing, but I also played popular music when my friends and family wanted to sing along. As I got older, I composed my own music and lyrics. Even won a contest with one of my songs.
So, here I am, all these years later. I'm about to embark on a year-long (at least) trip. I'm purging tons of stuff and putting the little that remains in storage. For many reasons, I decided it was time to let someone else enjoy this piano and put it up for sale. Oh, but the emotions that surfaced. My Mom supported my decision and I felt better for a bit…until a really nice couple came to look at the piano and seemed serious about buying it.
After they left to research piano movers, I looked at Richard with my eyes wide and glassy. "Can I go through with this?"
I sent a text to my old high school boyfriend, who is still a dear friend to this day. He, too, is a musician and we spent years jamming together and playing in a short-lived band, which involved a drum kit, a guitar/trumpet player, a saxophone player, and me on the piano, packed into a small living room, playing "In the Mood" by Glenn Miller over and over again while my Mom served us snacks.
Me: I'm about to sell my piano and I'm feeling emotional.
JJ: Oh no. That's terrible.
 I know the connections we get to musical instruments. They are always there to help us through all of life's ups and downs. I still have and use that brown leather guitar strap from back in the day. I don't know if non musicians can understand it. Well find it a good home with good people who will play and enjoy it.
Me: They came by today to look. I think they're interested. I got a good feeling about them. That's important to me. Thanks for understanding.
JJ: I fully understand. My son has my Gibson. I still have and play the black ovation. There are about 10 guitars that I will never part with. Just guitars are more portable than pianos. Each has stories and an emotional connection. I feel for your loss.
He texted me a photo of the MIDI controller he uses with his MacBook when he's on business trips and can't bear to be away from the music.
And just like that, I felt a sense of peace wash over me. There is powerful magic in being understood. JJ's words were like a balm on my jangled emotions.
He was so right. My piano had been entertainment for myself and others, but it was a constant companion during periods of joy, anger, sadness, and loneliness. I banged on the keys after break-ups. I played the Hungarian Rhapsody hundreds of times for my grandmother, who would beam and sigh. I guided my baby's fingers over the keys and showed him how to tap out familiar songs. But it was time for someone else to enjoy those experiences and make their own memories.
Someday, after our travels, when I'm settled in a place of our own, I think I might just check out an 88-key, weighted action, digital piano. I like the idea of going from the sound of a concert grand to several e. piano options, pipe organs, harpsichord, not to mention the ability to add in strings and percussion. Plus, a portable version will serve my sometimes nomadic lifestyle.
Farewell, my old friend. You've been a faithful companion, a trusted confidante. Wishing you much love in your new home.